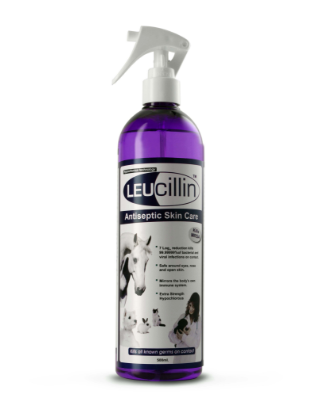 Leucillin
Leucillin Spray
Leucillin Antiseptic Skin Care Solution is specially formulated for the health and skincare of your pet, a must have product for any animal owners first aid kit. Leucillin is a fast acting anti-bacterial, anti-viral and anti-fungal spray. Leucillin is a safe, reliable and affordable infection control solution to combat a wide variety of skincare conditions.
Leucillin out-performs other products with its ability to kill up to 99.99999% of germs that can cause infection; irritation, dry, itchy, flaky or smelly skin problems that so often plague our pets. Leucillin provides you with a powerful solution to combat all types of infection.
Leucillin Capabilities:
Wound treatment for all mammalian animals, birds and reptiles
Mirrors the bodies immune system
Kills all bacteria, viruses, fungi and microbial spores
Non-toxic, skin pH neutral, 100% safe
Safe around the eye, mouth, sensitive and allergy prone skin
Eliminates infection
Does not sting or irritate
Decreases chronic inflammation
Reduces healing time by up to 60%
Non antibiotic or steroidal
Leucillin Usage:
Effective against Mud Fever, Rain Scald, Thrush and the symptoms of Sweet Itch in horses as well as Clipper Rash, Dermatitis, Hot Spots and Ringworm. It aids post surgical sites, excessive paw licking, minor cuts, abrasions, ear and eye infections.
Directions for Use:
Apply Leucillin liberally directly to the affected area using it to flush, clean and debride. If dressing is required, apply Leucillin liberally to each dressing. Repeat up to 3 times per day. No rinsing is required.
---
Share this Product
---
More from this collection