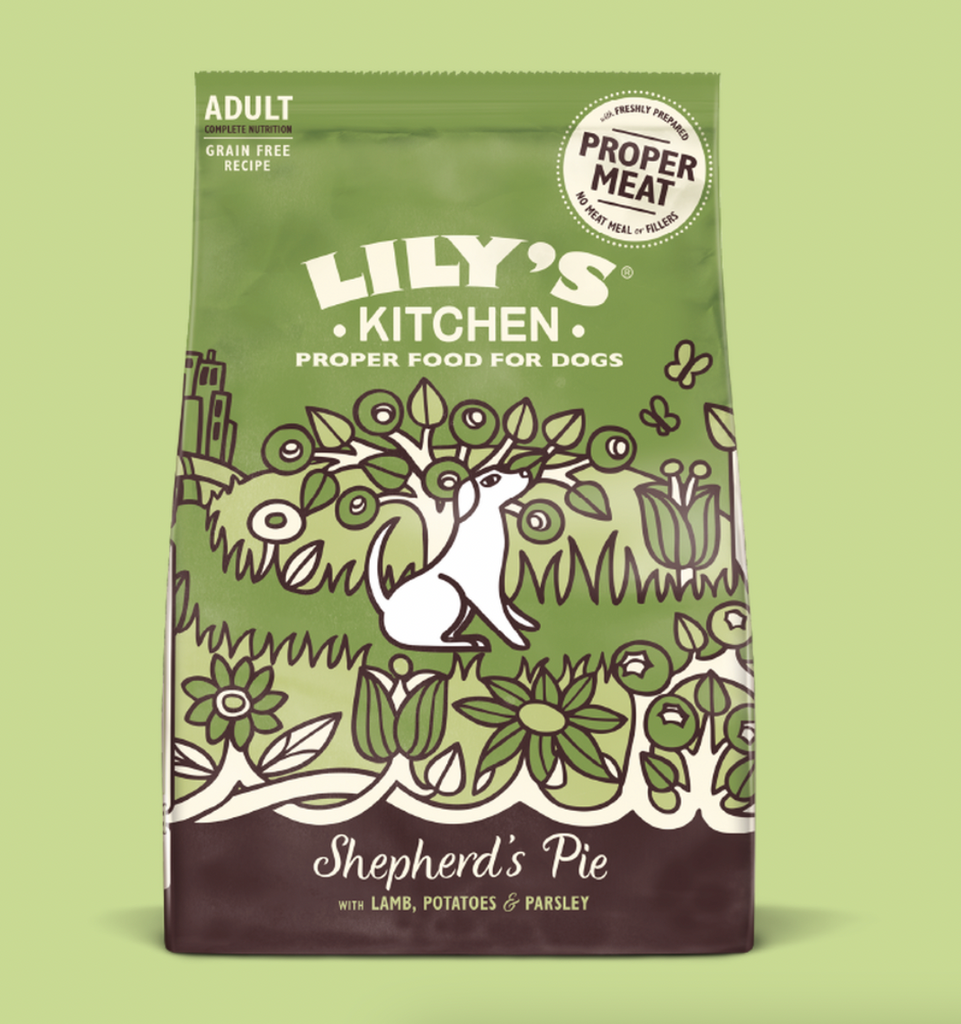 Lilys Kitchen
Lily's Kitchen Shepherd's Pie - Lamb Dry Food
This lovely grain free, complete recipe with freshly prepared lamb is utterly delicious and healthy too.
We add glucosamine and chondroitin to help aid bone and joint support, prebiotics to try to establish a healthy digestion and L-Carnitine, a natural substance which can help move and limit storage of fat. This is our lowest fat recipe, so ideal for hounds trying to lose the pounds!
We make this recipe using only freshly prepared lamb, with carefully chosen fruits and vegetables, and our unique blend of botanical herbs. This recipe is also a good source of all the essential vitamins and minerals your dog needs in their daily diet.
32% Freshly Prepared: Lamb (27%), Lamb Liver (5%), Sweet Potatoes (20%)
Potato (16%), Pea Protein, Potato Protein, Whole Peas (4%), Whole Lentils, Flaxseed, Lamb Gravy, Minerals, Botanicals & Herbs* (1%), Sunflower Oil, Pea Fibre, Prebiotics (Mannan Oligosaccharides 2g/kg, Fructooligosaccharides 1.2g/kg), Joint Care Mix (Methylsulfonylmethane 200mg/kg, Chondroitin Sulphate 200mg/kg, Glucosamine 200mg/kg), Carrots, Parsley (0.01%), Cranberries, Apples, Spinach.
*Botanicals & Herbs: Alfalfa, Chickweed, Cleavers, Golden Rod, Nettles, Seaweed, Dandelion Root, Celery Seeds, Milk Thistle, Burdock Root, Marigold Flowers, Rosehips.
Calories
347 kcal/100g
Analytical constituents
Crude Protein 23%
Crude Fats & Oils 9%
Crude Fibres 3.5%
Crude Ash 7%
Omega 6 1.5%
Omega 3 1.2%
Calcium 1%
Phosphorus 0.7%
Vitamins (per kg):
Vitamin A (as Retinyl Acetate) 18,000 IU, Vitamin D3 (as Cholecalciferol) 1,800 IU, Vitamin E (as Alpha Tocopherol Acetate) 150 IU, L-Carnitine 400 mg
Trace Elements (per kg):
Zinc (as Zinc Chelate of Amino Acids Hydrate) 100mg, Manganese (as Manganese Chelate of Amino Acids Hydrate) 10mg, Copper (as Copper (II) Chelate of Amino Acids Hydrate) 9mg, Selenium (as Organic Selenium S. cerevisiae CNCM 1-3060) 0.2mg, Iodine (as Calcium Iodate Anhydrous) 0.5mg
---
Share this Product
---
More from this collection